What's the best way to get baked? Cookies 'n' Cream Cannabis Brownies!
We're making this chocolate-y dream-brownie baked with cookies, cream cheese icing, crumbled cookies and chocolate brownie icing.
This, my friends, is the epitome of decadence!
Every layer is loaded and laced with creamy goodness and cannabis. OH MY!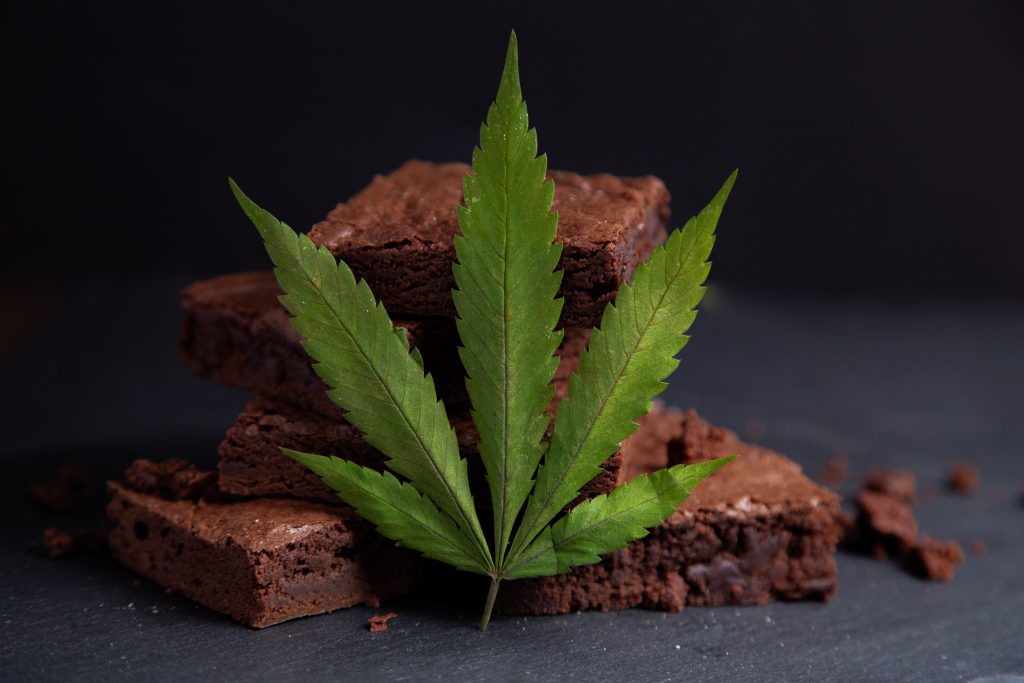 The first thing you always need ot do when making weed edibles is decide on what kind of high or feeling you want to elicit from your snacks.
If you want to chill, relax and just melt into the couch? You want to use Sativa.
If you need a creative boost, more focus and energy – an Indica strain will remedy that!
As you may know, edibles do take longer to 'kick' in as opposed to smoking or taking an oil sublingually (under the tongue)
So even though you will want to eat an entire pan of these yummy brownies, take one or two tops, wait an hour or more, and then see how you feel.
Then, you'll need to decarb your weed.
Ingredients
You'll need to make sure you have Cannabis butter made up first and for most – and if you haven't made it before check out the recipe here. You can freeze a bunch of butter too, for convenience and easy access.
Equipment
11×7-in. baking pan
Parchment Paper
Mixing Bowls
Measuring spoons
Measuring cups
Spatula
Hand mixer or stand mixer
Ingredients
1 pkg 8 oz cream cheese softened
1/4 cup sugar 1
1 large egg
1 tsp pure vanilla extract
BROWNIE LAYER
1/2 cup Cannabis butter melted
1/2 cup sugar 1/
1/2 cup brown sugar
1/2 cup baking cocoa
2 large eggs
1 tsp pure vanilla extract
1/2 cup all-purpose flour
1 tsp baking powder
12 oreo cookies crushed completely
10 oreo cookies cut into larger chunks
Instructions
In a small bowl, beat the cream cheese, sugar, egg and vanilla until smooth; set aside. For brownie layer, combine the cannabus butter, sugars and cocoa in a large bowl. Beat in eggs and vanilla. Combine flour and baking powder; gradually add to cocoa mixture. Stir in crushed cookie crumbs.
Pour into a greased 11×7-in. baking pan. Spoon cream cheese mixture over batter. Sprinkle with coarsely chopped cookies. Bake at 350° for 25-30 minutes or until a toothpick inserted in the center comes out with moist crumbs. Cool completely on a wire rack. Cut into bars. Store in the refrigerator.
How do you like this item?