The French know their pastry, and today's recipe is no French exception! We're making: Marijuana Macarons – The Best Weed Edible Dessert.
Where Did Macarons Come From?
A macaron or French macaroon is a sweet meringue-based confection made with egg white, icing sugar, granulated sugar, almond flour, and food coloring.
The macaron was supposedly introduced to the French by the Italian chef of queen Catherine De Medici during the Renaissance.
They are the cutest, sweetest little confections you have ever tasted, and when you add Cannabis?
The BEST weed edible dessert EVER!
Would the French scowl at our take on their historic pastry or would they applaud us?
That remains to be seen, but if you love a sweet buzz with gorgeous results – then why not try a marijuana macaron at home?
How Do I Bake With Weed?
First, and always – you want to decarb your weed.
If you haven't done this before, don't worry! We have a how-to video for you below.
If you've mastered this step, then head on over to the recipe and start your baking engines!
If you want to get the full French experience, and a nice Eiffle tower high – you can't skip the decarboxylating.
You'll go from Ohhh to Oh la la if you've ever tried to bake before decarbing.
How Do I Decarb Cannabis?
Edible Baking Tips
I've personally spent weeks mastering these macarons and I have a few tips to share with you because I am not the best baker, but I do try my best!
When you are sifting your almond flour and icing sugar gently shake and pat the side of the sifter like you're the Tamborine girl (or guy) in a folk-music band. This makes it next to impossible to mess up the macaron shells.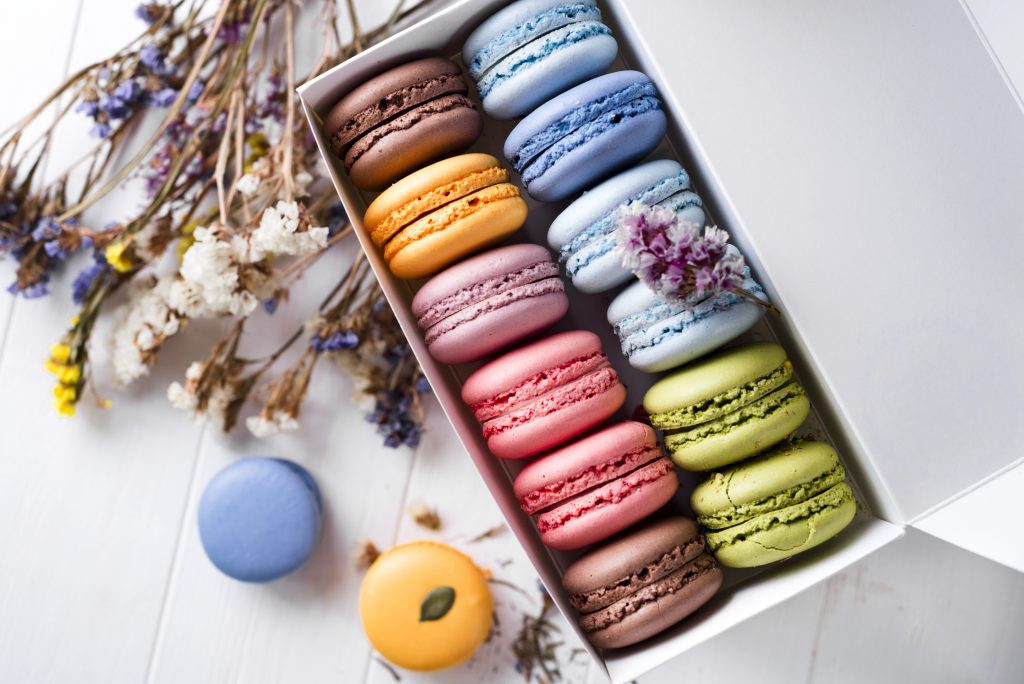 Make sure when you are piping your macaroons onto the cookie sheet to give enough space between each one. Don't make the circles too big or you'll end up with a hot mess.
After you've made all of your piping circles, give the cookie sheet a few gentle slams on the counter to get out all of the air bubbles.
Don't leave out the decarbing step and make sure you follow the video so you have perfectly activated weed!
Measure out the ingredients meticulously! Don't even try to adlib here. It won't work out! I've done the leg work for you!
Equipment
Large Bowl
Cookie Sheet & Parchment Paper
Sifter/Strainer with very tiny holes
Spatula
Hand Mixer
Piping bags
Ingredients
1/4 ounce Cannabis – decarbed (220 F for 20 minutes)
1/2 cup Butter
1 1/2 cups Almond Flour Note: MUST use almond flour, no subs.
1 3/4 cups Powdered sugar
4 eggs Separated – use egg whites only
1/2 cup Sugar
1 tsp Green food colouring
FILLING
1/2 cup Cannabis butter
2 cups Powdered sugar
2 tbsp Milk
Instructions
Decarb your weed ( 220 F for 20 minutes)
Add your butter and decarbed weed together in a small dish/bowl
Next, strain your decarbed weed & butter with a cheesecloth ( don't squeeze) over a seal tight glass container or mason jar. A smaller size will suffice.
Refridgerate while you prepare the rest below.
PREPARING THE BATTER
Sift your almond flour and powdered sugar using a very small-holed strainer into a large bowl – note: sifting is key! You need to get the finest form of flour you can, and the only way is sifting. Stir with a whisk and let it stand whlie you prepare another bowl with more ingredients.
Separate your 4 eggs , and use only the egg whites. Place them in a separate bowl.
Add in your 1/2 cup sugar and blend with a hand mixer, you should have stiff peaks with your mixture – then you know it's ready to add the dry ingredients.
Slowly add in your dry ingredients while mixing on low. Do NOT overmix!
Add in a tsp of green food colouring, gently fold it in. No overmixing!
PIPING
Fill your piping bag with your mixture
Create small circular 'dollops' on your parchment lined cookie sheet( basically: one small squeeze about the size of a Canadian dollar/ loonie). Make sure they are far enough apart, as they settle they'll expand and you don't want them to touch.
Let them rest for one hour on the counter, uncovered.
Then bake them in the oven for 220F for 40 minutes
FILLING
While your macaroon shells are baking, you can prepare the delicious Cannabis filling!
Add 1/2 cup Cannabis butter to a bowl, and slowly pour in 2 cups of powdered sugar in small batches until all mixed up. Then add 2 tbsp milk. Blend with a hand mixer until smooth.
Put your filling into piping bags.
ASSEMBLY
When your macaroons are ready, let them cool for 10 minutes or so.
When fully cooled, you can pipe the filling inside and make your little macaroon sandwiches!
Enjoy!

EXTRA: Fruity Pebbles Macaron ~~special~~ filling
3tbs Cana butter 1 1/2 tbs cream cheese 1 1/2 cups confectioners sugar 1tbs of heavy cream
Whip the butter first with stand mixer and paddle attachment until smooth. Add cream cheese and mix until combined. Add sugar 1/2 cup at a time. Add cream last! I also added crushed fruity pebbles for some texture!
Adding this to here too:
Canabutter Recipe:
I've only ever made this recipe using an ounce, but you should be able to scale it up or down as needed.
You will need: Parchment paper Baking tray 1oz Flower 1lb Butter Mason Jars (3) Sous vide or Slowcooker (I've only done this with a sous vide, which are very affordable online, but a Slowcooker will work!) Cheese cloth, fine mesh strainer, or coffee filters
Get European style butter. It has a higher percentage of fat than American butter, which allows it to absorb more THC.
Preheat oven to 225°F/107°C
Break up your bud! I generally do it by hand, because it's part of the process and quite therapeutic, but you can use a grinder. You don't want it to small though, leave your flower a bit chunky.
Evenly distribute on a baking tray lined with parchment paper
Bake for 45 minutes
NOTE: THIS STEP IN 100% NECESSARY, OR YOUR CANNABUTTER WONT GET YOU HIGH. GOOGLE DECARBING BUD FOR MORE INFO!
6. Set sous vide to 180°F/82°C
OR
fill Slowcooker with water, and set to LOW
7. Split bud evenly into two jars, 1/2 oz in each
8. Melt your butter completely(I do it on the stove), and split evenly, 1/2 lb in each jar To make this easier, I usually just melt half the butter at a time
9. Close jars tight, but not over tight, and place the jar in the sous vide/slow cooker bath with something placed underneath it, to ensure proper water circulation. MAKE SURE THE FLOWER AND BUTTER ARE COMPLETELY SUBMERGED IN THE WATER
10. Cook for 4 HOURS!
11. Remove from heat and allow to cool enough to handle, but not solidify.
12. Strain using a fine mesh strainer, cheese cloth, or coffee filters into another jar.
13. Refridgerate until solid
14. Make some dank goods!
How do you like this item?