Step into the future of vaping with the groundbreaking Seahorse dab pen by Lookah. Offering a unique and multifunctional device, the Seahorse dab pen is designed to elevate your vaping experience like never before. But don't just take our word for it — read on to discover why the Seahorse dab pen is a must-have for any vaping enthusiast.
Finally! A portable vaporizer for wax concentrates and extracts.

Whether you're looking to buy a Seahorse dab pen for yourself or seeking the best Seahorse dab pen for a friend, our comprehensive Seahorse dab pen review will guide you in making an informed decision. We'll explore the top-quality features, affordability, and the seamless online purchase process for the Seahorse dab pen.

Use code: HMB10

For 10% OFF
Key Takeaways
Revolutionary design and functionality of the Seahorse dab pen enhances the vaping experience
Seamlessly switch between Enail, dab pen, wax pen, and cart pen in one device
Experience smoother hits with integrated water filtration of the Seahorse X
Enjoy ultimate control with adjustable voltage settings and dual-use modes
Designed for versatility, compatibility with various concentrates and 510 cartridges
Affordable pricing for a sophisticated and innovative vape device
Finding the perfect Seahorse dab pen online is quick, easy, and secure
Unveiling the Lookah Seahorse X: A New Era in Vaping Technology
The Lookah Seahorse X ushers in a new age of vaping with its remarkable versatility and slew of innovative features. As the 3rd generation in the award-winning Seahorse range, the Seahorse X serves as a comprehensive vaping solution. It enables users to vape through three distinct modes: as a wax pen, electronic nectar collector, or e-nail.
With the Seahorse X, you can indulge in a portable dab device experience, enjoying wax concentrates and extracts for unprecedented levels of satisfaction. The device comes standard with a 510 to 710 thread adapter, broadening its compatibility to accept a variety of 710 coils specially designed for wax pen mode.
Consumers can also leverage the device alongside third-party bubblers and water pipes ranging from 14-18mm. Highlighting its retail value, Lookah's Seahorse X is highly competitive, providing an affordable yet sophisticated vaping experience. As a testament to Lookah's reputation for consistent innovation, the Seahorse X is considered the most versatile device from Lookah, offering unparalleled convenience and functionality to vaping enthusiasts.
Discover uncharted territory with the powerhouse Seahorse X, boasting a glass mouthpiece, magnetic tip, and a robust 650mAh battery.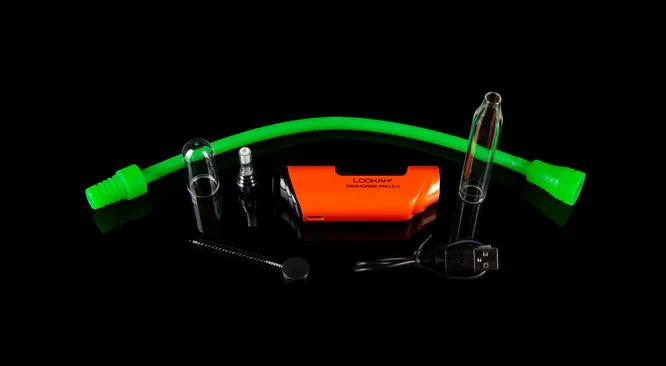 With an ergonomic honey straw, usb-c charging, and variable voltage, the Seahorse X rises well above its contemporaries. Its dual-use modes make it compatible with 510 cartridges, granting users the freedom to explore different vaping methods. To enhance your sessions, the Seahorse X showcases a range of top-tier features, including:
Variable voltage settings for a tailored experience
A potent 650mAh battery for extended sessions
USB-C charging for ultimate convenience
Compatibility with various 510 cartridges
An ergonomic honey straw design for maximum satisfaction
The Lookah Seahorse X redefines the boundaries of vaping technology, offering an exquisite blend of innovative features, stylish design, and unparalleled functionality. Expand your horizons and experience the new era of vaping with the Lookah Seahorse X.
The Multifaceted Vape Genius: Modes and Features of Seahorse Dab Pens
Seahorse Dab Pens have earned their reputation as a pinnacle of vaping innovation, and this can be primarily attributed to the device's exceptional convenience, versatility, and seamless adaptability. Let's delve deeper into the distinguishing features that set Seahorse Dab Pens apart from the competition.
The Convenience and Versatility of Dual-Use Modes
Boasting dual-use modes, the Seahorse Dab Pen easily integrates with both wax concentrates and cartridges, allowing users to effortlessly transition between nectar collector and wax pen setups. The Seahorse coil type can be customized to suit personal preferences, while the pen remains highly compatible with third-party glass accessories. Furthermore, the Lookah Seahorse X's compatibility with standard cartridges and silicone connection hose offers seamless attachment to larger water pipes for an enhanced vaping experience.
Seamless Adaptability with Various Concentrates
Designed for adaptability, Seahorse Dab Pens are ideal for a wide range of concentrates. Whether you enjoy the robust flavor profile of waxes or the convenience of oil cartridges, these pens have you covered. Featuring quartz and ceramic coils, the devices boast quartz tip durability and unparalleled flavor preservation, promising a pure and potent vaping experience. Additionally, the Seahorse X accommodates an extensive selection of 510 cartridges, allowing users to effortlessly switch between different concentrate types without compromising performance or quality.
Optimizing Your Sessions: Battery Life and Temperature Settings
In pursuit of the ideal vaping experience, Seahorse Dab Pens come furnished with features designed to maximize efficiency and customization. Equipped with a robust battery life, users can enjoy extended sessions between charges. Temperature settings can be adjusted across three levels (low, medium, and high), empowering users with the control to tailor their experience according to their preferences. Moreover, the Seahorse X offers a rapid heat-up time, reducing wait time and elevating overall convenience during each session.
With the Seahorse Dab Pens' innovative modes and features, users can experience an unprecedented level of customization and convenience in their vaping journey. The Lookah coil, e-nail for water pipes, and seamless adaptability with various concentrates set the foundation for a truly unique vaping experience with the Seahorse Dab Pens.
Maximizing Your Dabbing Pleasure with Lookah's Innovative Design
Lookah's innovative design approach helps to maximize the pleasure of dabbing, as exemplified by the Seahorse X. This multifaceted device boasts an ergonomic honey straw design, sophisticated electric nectar collector functionality, and hand-blown glass components. By incorporating such thoughtfully designed features, the Seahorse X delivers an enjoyable and user-friendly dabbing experience that stands out from the crowd.
One of the device's standout design elements is a magnetic glass cover. This practical feature simplifies cleaning and maintenance, ensuring your Seahorse X remains in prime condition for consistent performance. By making it easy to keep the device clean, users can count on a reliably enjoyable vaping experience for the long term.
Hand-blown glass water pipes are another a key aspect of the Seahorse X's innovative design. The integration of this feature allows for water filtration, resulting in a smoother overall vaping experience. By incorporating these elements into their design, Lookah continues to demonstrate their commitment to delivering dabbing devices that are not only efficient but also enjoyable to use.
FAQ
Where can I buy a Seahorse Dab Pen?
The Seahorse Dab Pen is available for purchase through authorized retailers and online stores. Make sure to choose a reputable seller to ensure you're getting the best and most authentic Seahorse Dab Pen experience.


What makes the Seahorse Dab Pen stand out from other vaping devices?
The Seahorse Dab Pen boasts a unique and innovative design, offering remarkable versatility and adaptability. With dual-use modes, compatibility with various concentrates, quartz and ceramic coils, variable voltage, and a host of additional features, it presents a comprehensive and customizable vaping experience like no other.


How does the Seahorse Dab Pen work with both wax concentrates and 510 cartridges?
The Seahorse Dab Pen's dual-use modes make it simple to switch between nectar collector setup, customizable with the Seahorse coil, and wax pen setup, compatible with third-party glass accessories. The device is also compatible with a wide range of 510 cartridges, ensuring seamless adaptability for every preference.


What are the advantages of quartz and ceramic coils in the Seahorse Dab Pen?
Quartz and ceramic coils offer durability and the ability to preserve the flavor profiles of various concentrates. They contribute to a pure and powerful vaping experience without any burnt taste, ensuring that your vaping sessions remain enjoyable and consistent.


Can I customize the temperature settings on my Seahorse Dab Pen?
Yes! The Seahorse Dab Pen comes with three temperature settings: Low (3.2V), Medium (3.6V), and High (4.1V). These settings enable you to fine-tune your vaping experience, whether you prefer dense, intense vapor or mild, flavorful hits.


How do I clean and maintain my Seahorse Dab Pen?
The Seahorse Dab Pen features a magnetic glass cover, which simplifies both cleaning and maintenance. By regularly cleaning and maintaining your device, you ensure peak performance and prolong its lifespan for consistent enjoyment.
Author Profile