In need for an extra hand or just feeling spooky?
If you smoke joints, blunts, or cigarettes, you can relate to the very-real struggle of trying to take a hit on a 1-inch nub. Your lips get scorched, your fingertips get a bit too hot for comfort, or maybe you fumble when passing it to the next person, dropping it on the floor and ashing all over their pants.
It's a scenario that nobody should have to deal with when stoned.
Fortunately, there are ways to avoid this. Instead of risking bodily pain, you can wear your tiny blunt on a ring.

Say goodbye to burnt fingertips in style with this joint/blunt/cigarette holder.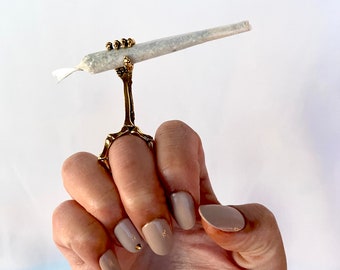 The super unique, spooky style is definitely an eye-catcher. This is a super fun piece to take out to show off your unique self. 
And, for those who already use tweezers to avert this classic stoner problem, we just have one question for you: Does it feature a cool skeleton hand, too?
Yeah, thought so.
You can grab one now by clicking the "I want one!" button.
How do you like this item?